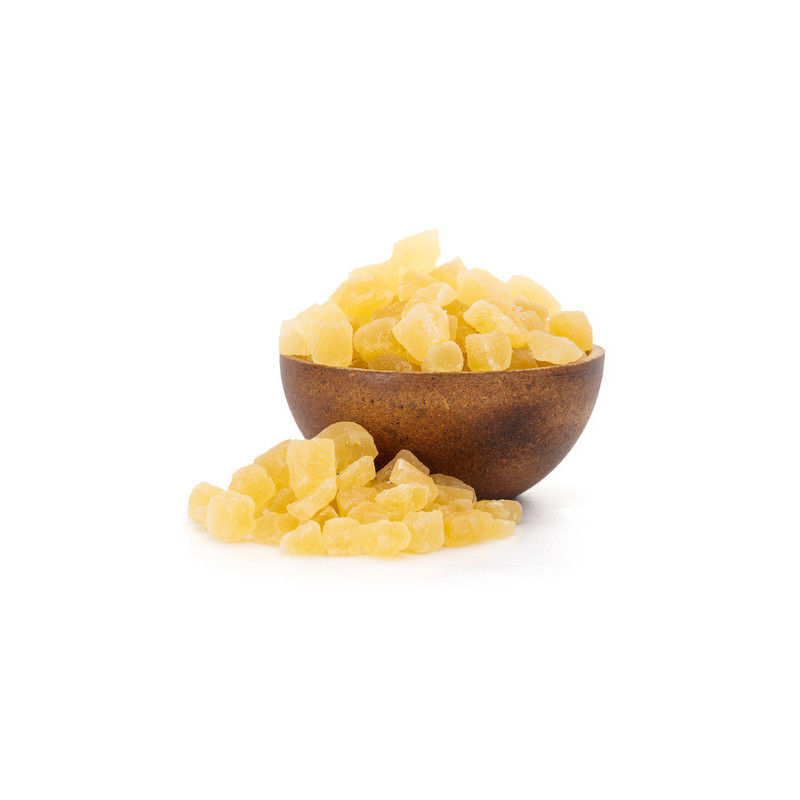 Dried pineapple – AsgardShopping
Enjoy delicious pieces of pineapple, lightly sweetened, dried at low temperatures!
Dried pineapple lightly sweetened

     Classification: Canned single-species fruit
     Ingredients: Pineapple 55%, sugar 43%, preservative SO2 0.01%, acid. Lemon 1%
     The product may contain traces of peanuts, other nuts, gluten, sulfur dioxide and sesame
     Packaging: Vacuum packed in PP packaging (vacuum removal may occur during transport, which will not affect the quality of the fruit)
     Country of origin: Thailand

While pineapple is normally dried at around 60-80°C, our pineapple is dried at a lower temperature after ripening and harvesting, so it retains all the original nutrients and beneficial substances contained in the pineapple. Pineapple contains a substance called bromelain, which helps break down proteins and thus supports digestion, and is also known for its anti-inflammatory effects. Furthermore, pineapples contain potassium, calcium, vitamins A, C and B1, manganese and iron.

By drying at low temperatures, pineapple preserves, among other things, its sweet taste and great aroma. It is suitable as a sweet snack and in various culinary products and muesli.

We pay the utmost attention to the correctness and up-to-dateness of product information. Regulations and regulations for food production are, however, constantly updated, so there may be changes in the stated composition of food, content of nutrients, allergens or dietary information. We recommend reading the label before using the product.